Hey guys!!
Welcome to my first official Tool Review!
While I've always had the "Tools I Use" page,
I am excited for this new addition.
I want to start off by saying that if you follow me on
Instagram, you know how real I am.
If I don't like something, I'm not afraid to tell you.
Secondly, I want you to know that YES, I was compensated
for this review. BUT, they paid me to be HONEST.
All of the following opinions are 100% my own.
Every review I do on this page and any social
media platform I have will always be 100% MY opinion.
Alright, now that we've got all of that mumbo jumbo out of the way,
I can't wait to tell you all about the new WORX Pegasus 2-in-1 Sawhorse and Worktable!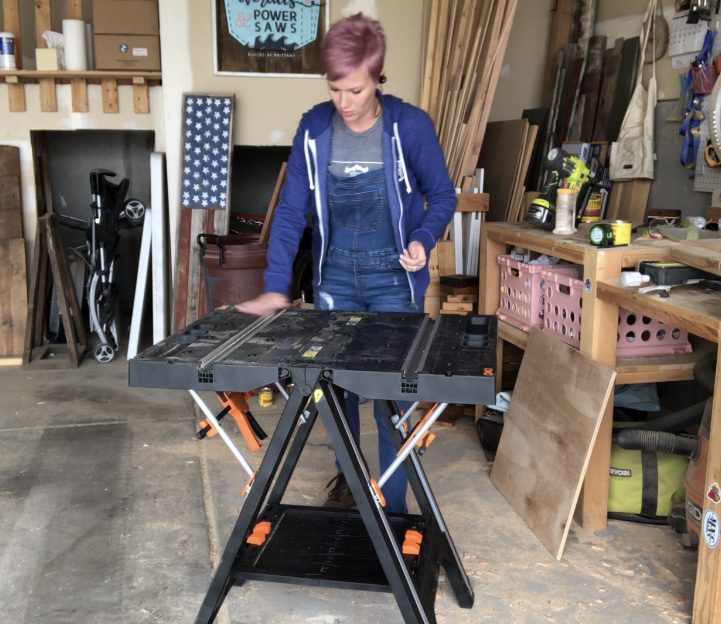 There are a lot of really cool features on this product
but, honestly, the reason I was most excited about it was to have the extra work space!!
Most of you have probably seen my little "section" of the garage I work in.
I'm lucky enough that my husband let me take up one wall of the garage…
but that's exactly what it is.
One wall.
With just enough space to fit my miter saw bench.
And, lets be real, it's covered in tools and crap most of the time.
So when WORX reached out to me I jumped ALL over it!
Especially once I saw that it folded out into a table and I realized that I would only need to own ONE!
Not two, with a big hefty piece of plywood stretched across them, like typical sawhorses.
Nope. This one's got a table built right in!
Don't get me wrong, though… just because I don't HAVE to own one
doesn't mean that I don't want three more!
The tabletop comes with these nifty little built rubber connectors
so if I did have three more, I could connect them all and make one giant collapsible work space!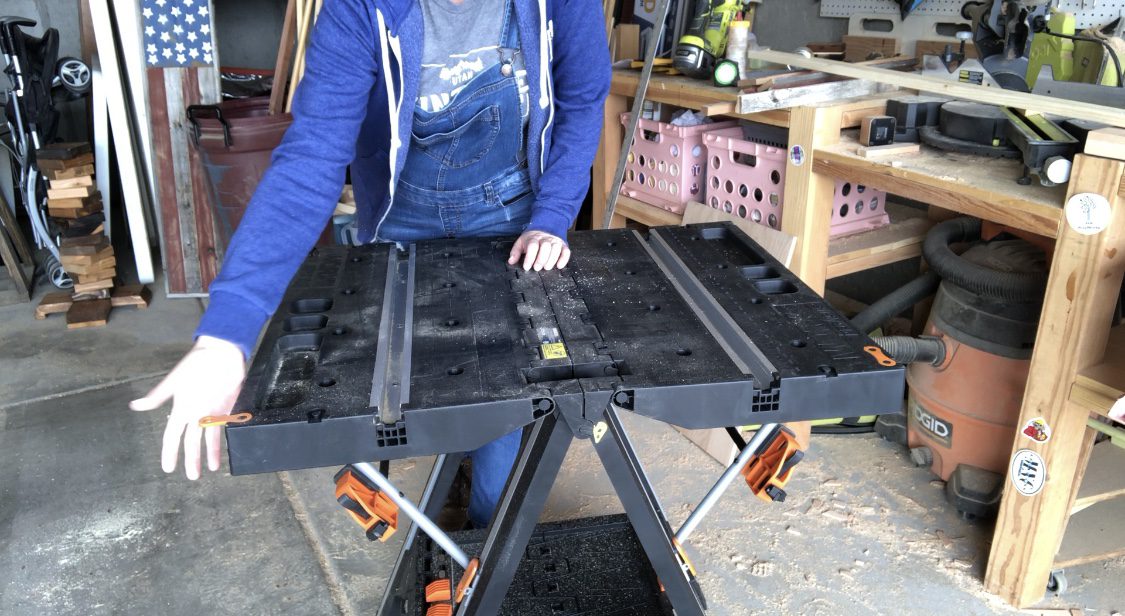 I'm one of those woodworkers that still likes to park her car in the garage…
yes, we are a rare breed, I know.
So collapsible was a huge plus for me!
A couple more really awesome features on this product
are the clamps that slide into a track to clamp your piece in place,
and the dog holes and dogs that you can slide your piece up against
to hold it into place. Both of which have a built in storage piece.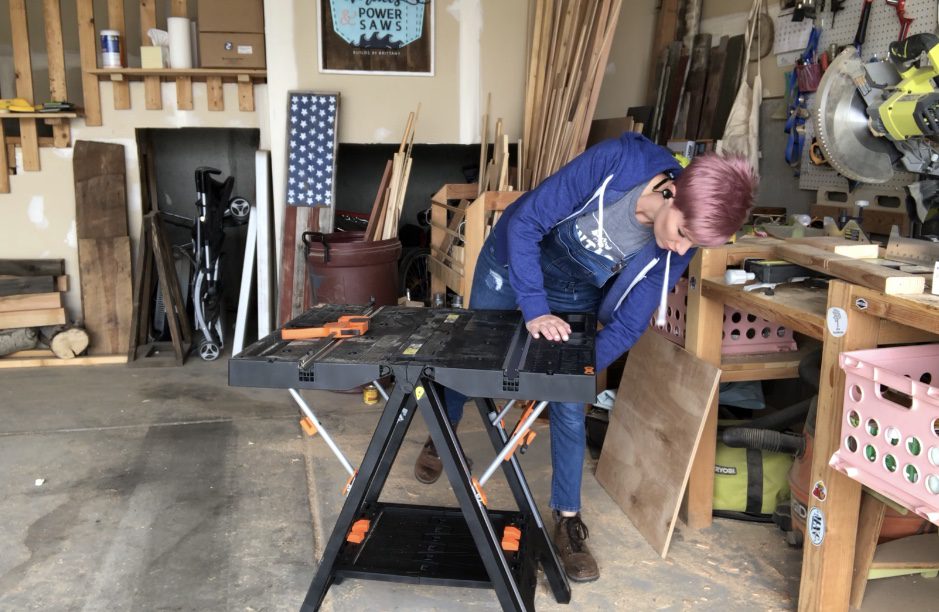 The clamps slide into these little brackets on the sides to store them.
And you can see the little orange dogs on the bottom shelf.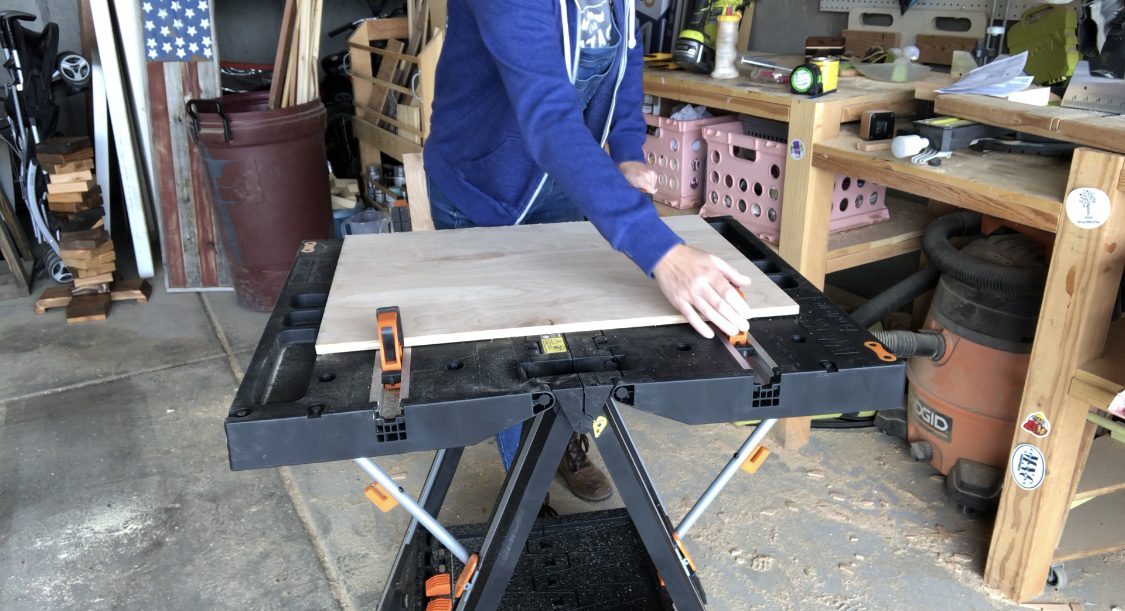 The clamps slide into these tracks and clamp around the workpiece, holding it secure to the table top.
It's perfect for someone like me, who doesn't own a table saw.
I love being able cut plywood on it with my circular saw!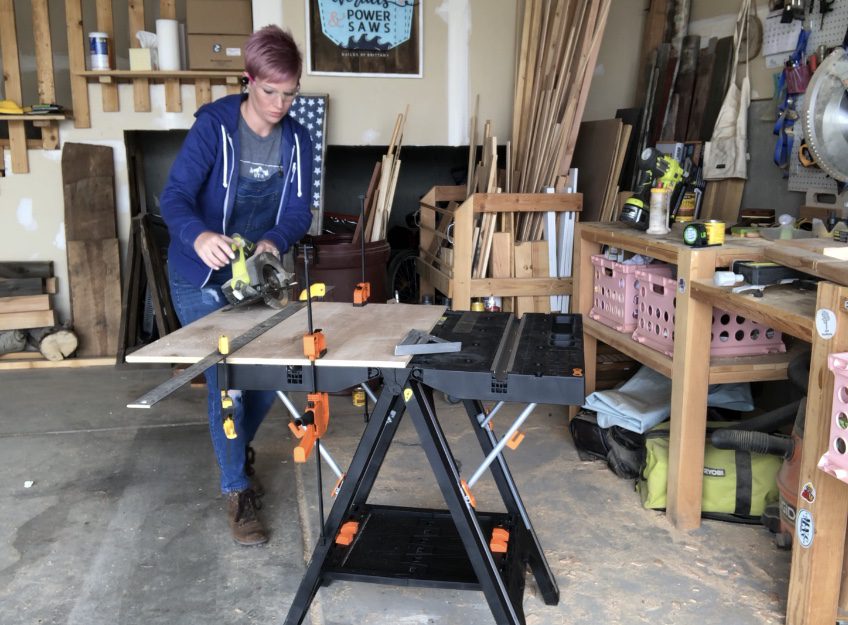 It's super easy to set up – just pull everything out and it locks into place.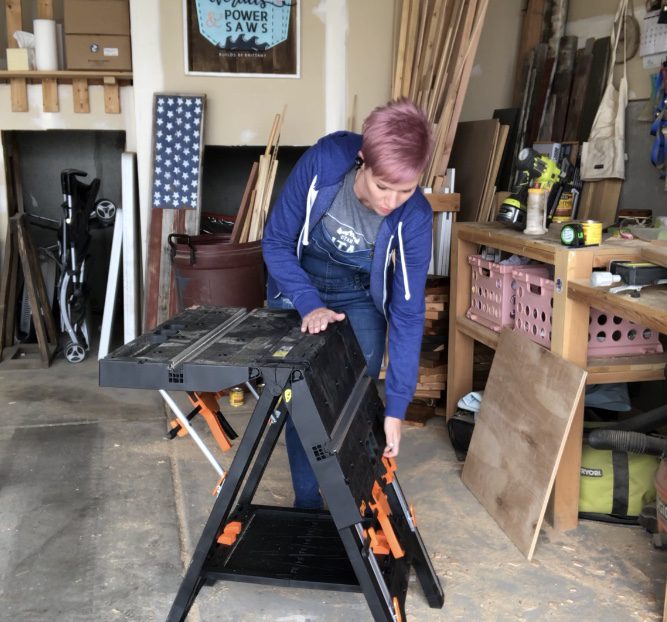 And equally as easy to take down – just press the orange tabs and your
table folds back down, then pull up on the bottom shelf and the sawhorse will
fold in.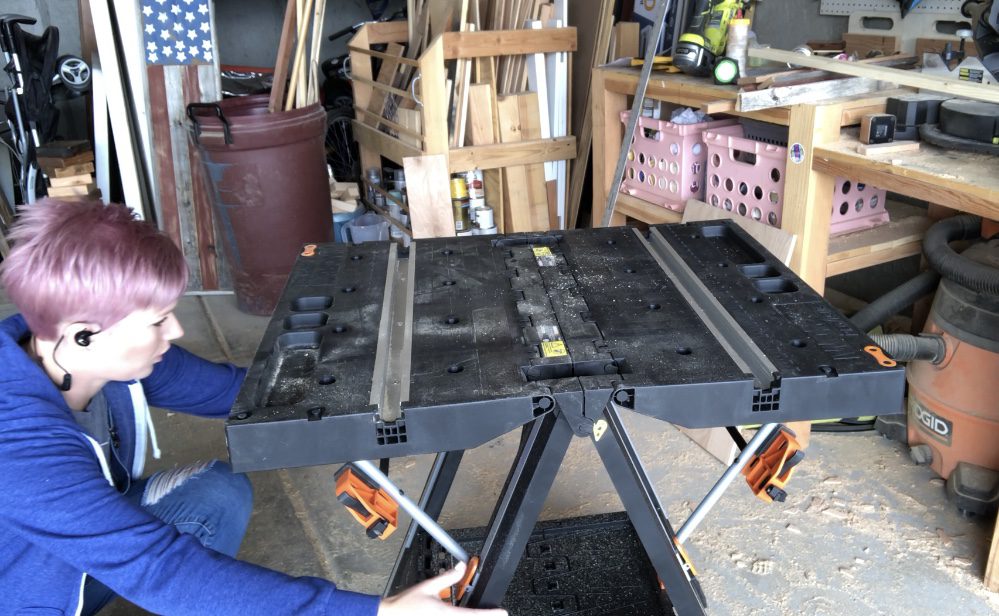 There's only one complaint I have for this otherwise awesome tool.
I just wish it had some sort of carry handle.
I'm a small girl and while it's not crazy heavy, it is kind of bulky
and isn't the easiest for me to carry.
That being said, my hubby lugs it around no problem.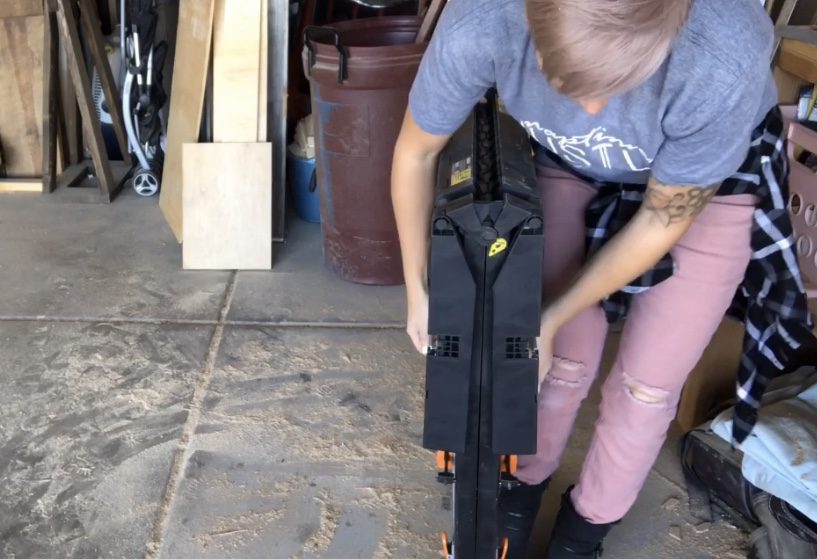 See? Just a bit bulky for my tiny arms, so a handle would be nice but…
All in all I'd definitely say that if you have a need for sawhorses,
it's worth upgrading to the Pegasus 2-in-1.
Thanks for following along! Be sure to check out
Overalls and Power Saws on Pinterest and Instagram!
XO,
Britt